Abstracts Submission Deadline – 15 June 2023
Abstracts Acceptance Notification – 15 August 2023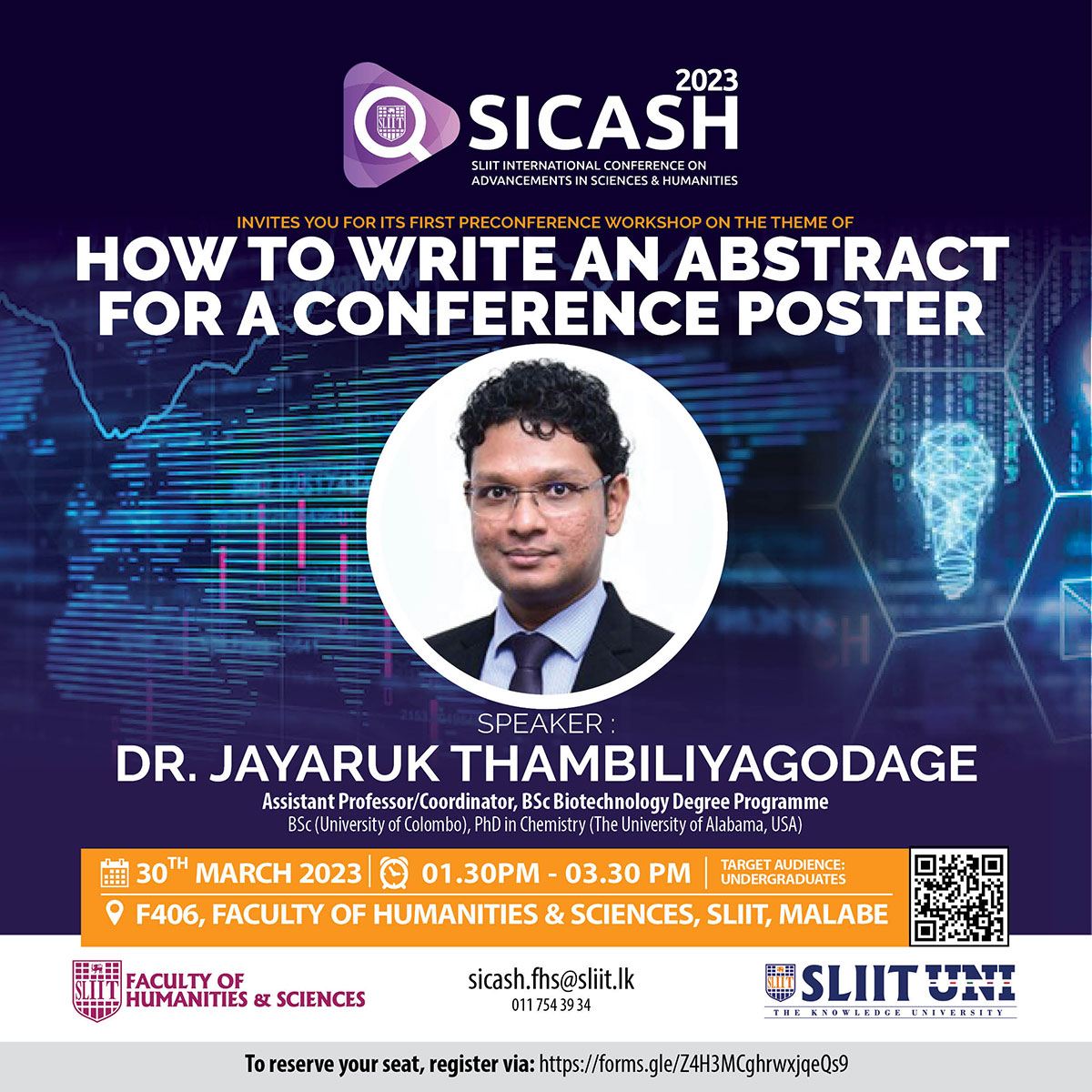 Abstract Template and Guidelines
The poster presentation session of the 4th SLIIT International Conference on Advancement in Sciences and Humanities (SICASH 2023) is open to all undergraduates to creatively demonstrate research conducted under the following conference themes:
Applied Sciences
Sub-theme: "Transformative Innovation through Research in Applied Sciences"
Sub-areas:
Recent Developments in Molecular Biology
New Trends in Tissue Culture
Future Drugs and Drug Delivery Systems
Novel Applications in Microbiology
Featuring Techniques in Environmental Remediation
Advanced Materials for a Better Future
Education
Sub-theme: "Educational Research for Empowering Teaching-Learning Process"
Sub-areas:
Curriculum Development
Learning and Assessment
Education for 21st Century
Education Management
ICT and Education
Instructional Design
Comparative and International Education
Education for Social cohesion
Professional Development of Education Personnel
English Language and Literature
Sub-theme: "Innovative Language and Literature Learning and Teaching Solutions through Research"
Sub-areas:
Innovative Methods in English Language Teaching and Learning
ESL Teacher and Learner Identity
Inclusive ESL Classroom: Politics, Challenges and Implications
Incorporating Technology in Language Teaching and Learning
Innovative Approaches to Teaching Literature
Tropes of Decolonization in Contemporary English Literature
Portrayal of Inclusivity in South Asian English Literature
Law
Sub-theme and areas:
Legal Research and Multidisciplinary Approach for Holistic Development in the Areas of
Public Law
Private and Comparative Law
Commercial Law
Public International Law
Information and Communication Technology Law
Mathematics and Statistics
Sub-theme: "The Importance of Mathematics and Statistics in Multidisciplinary Research"
Sub-areas:
Actuarial Mathematics
Financial Mathematics
Numerical Analysis
Graph Theory
Risk Analysis
Climate Analysis
Operational Research
Data Science
Statistical Learning
Mathematical and Statistical Modelling
Econometrics
Time Series Analysis
Multivariate Data Mining
Machine Learning
Nursing and Health Sciences
Sub-theme:
Multidisciplinary Health Research for Holistic Care Management in the Areas of;
Clinical Nursing
Nursing Education
Nursing Management
Community Health
Pharmacology
Nutrition and Dietetics
Physiotherapy and Rehabilitation
Radiology and Medical Laboratory Science
Psychology
Sub-theme:  "Psychology Research Aiming at Diversity, Technological Advancement, and Empowerment"
Sub-areas:
Clinical and Counselling Psychology
Work Psychology
Sports and Exercise Psychology
Developmental and Educational Psychology
Social and Cultural Psychology
Health and Wellbeing

Poster Submission Deadline – 15 September 2023
Poster Feedback Notification  – 15 October 2023
Deadline for the finalized poster submission (printed version) – 28 October 2023
Poster Template
Poster size and format
The recommended one-page poster size is 40″ x 32″ (102 cm x 81 cm)
The reference number given by SICASH must be placed at the top right corner of the poster.
Poster must be submitted in the PDF format.
Create your poster using PowerPoint (Landscape) and save it as a PDF before uploading it.
The poster file size should not exceed 10MB.
Title of the Poster
Font size – 96 / Font type – Arial
Concise and specific
Author/s Information
Be sure to include the author and co-author/s names with initials and the institution's name.
Place corresponding author's e-mail address and contact number in the upper right-hand corner of the poster board.
Font size – 44 / Font type – Arial
Lettering
Do not use all capital letters.
Be consistent.
Use a clear font e.g. Arial
Test convenience in reading
Make sure there is enough contrast between the color of the text and the poster's background
Content of the Poster
Posters should inspire discussion. Therefore,
keep text to a minimum (bullet points can be more effective than complete sentences) and emphasize graphics (visually attractive), and make sure every item included in your poster is necessary.
your ideas should flow logically from one section to the next while following the template given.
keep consistent margins.
keep line spacing consistent.
have a word count of about 300 to 700 words
use in-text and end-text references
Subheading: Font size – 40 / Font type – Arial
Body: Font size – 32 / Font type – Arial
Please design the content as your preference but include the following areas in the poster:
Introduction
Research problem identification
Brief literature review
Research questions
Research objectives
Methodology
Briefly describe about the methodology of your research
Try to keep the text easy to read and concise. The poster should have a clear message, a logical layout and be easy to comprehend.
Avoid the use of full sentences and rather use short text in bullet point format.
Avoid using watermarks that may detract from the readability of your poster.
Results and Discussion
Present the results of your research
Illustrations are the most important part of the poster and will attract the most attention. Colourful charts and graphs are the easiest to read.
Explanatory illustrations should be used instead of text whenever possible
Conclusion
Present the conclusion of your research in a brief manner
References / Acknowledgements
List down the references support this research Or
Give a brief acknowledgement
Reference list entries must be in line with the APA 7th edition style of referencing. Papers for the Track of Law shall follow OSCOLA Referencing 4th edition.
Eg.
Dave, J. (2021). Title of the section. In J. Chen, Book Title (pp. 50-52). Publisher.
Haffner, D. (2021). Title of the article. Journal Name, 50-62.
Lee, M. (2021). Conference Proceedings. Conference Publication Name (pp. 50-62). Publisher.
Loosen, D. (2021). Title of the book. Publisher.
Illustrations
Use the most relevant charts and graphs to illustrate data (avoid large tables of raw data).
Use high resolution photographs (web images often will not work).
The use of handwritten presentations as a poster is unacceptable. Presentations in this format will be disqualified from the Conference.
Keep the color, style, and thickness of borders the same.
Keep shading consistent.
Display
Kindly refer to your acceptance e-mail and/or the final conference program for the time and location of your poster session and set-up time.
The designated poster presenter (author or coauthor) must be present at the assigned space during the designated time to discuss the work presented.
Utilize handouts to supplement your poster.
Process of Submission
Guidelines for Presentation
Accepted abstracts will be asked to develop into a poster
Finalized posters will be called for an oral presentation
Duration for the presentation is 10 minutes
The presentation has to be delivered by one individual
The best three posters will be selected by a panel of judges
Decision of the judges will be conclusive
We look forward to receiving your posters. Good luck!